Every girl will become excited when it comes to everything about wedding. There is no doubt that choosing wedding dress is happy and annoying thing, whether design wedding dress by ourselves? Or hire a designer, famous or not, to design it for you? Or we just go to a store and spend hours and hours trying on all kinds of dresses? You want a sophisticated one, vintage, or latest trend? No matter what decision do you want to make, what come first is that know the wedding dress fabric.
Here are top 5 wedding dress fabrics for your reference.
Satin: Typical Glamorous Glossy Fabric
Satin fabric is wedding dress designers' favorite choice, because of its smooth and bright character. Plain and satin combined with lace and other ornaments can always be worn for parties or during the wedding ceremony.
Taffeta: Luxurious Fabric
Taffeta is a stiff, medium weight woven fabric that is made from silk or synthetic blends. This fabric is used to give a luxurious feel to a garment, and is typically used in formal wear.
Organza:  Clean and Stiff Fabric
Thin and soft cloth, but stiffer than chiffon, taffeta, but a bit like a thicker, that's organza. Usually used as a ruffle and a beautiful fluffy effect on the skirt, of course, you often see this in the wedding dress fabric. Organza looks clean and contemporary when worn on a minimalist model without ornament. While the impression of a young classical and arises when organza decorated with beads and lace.
Chiffon: Sheer Fabric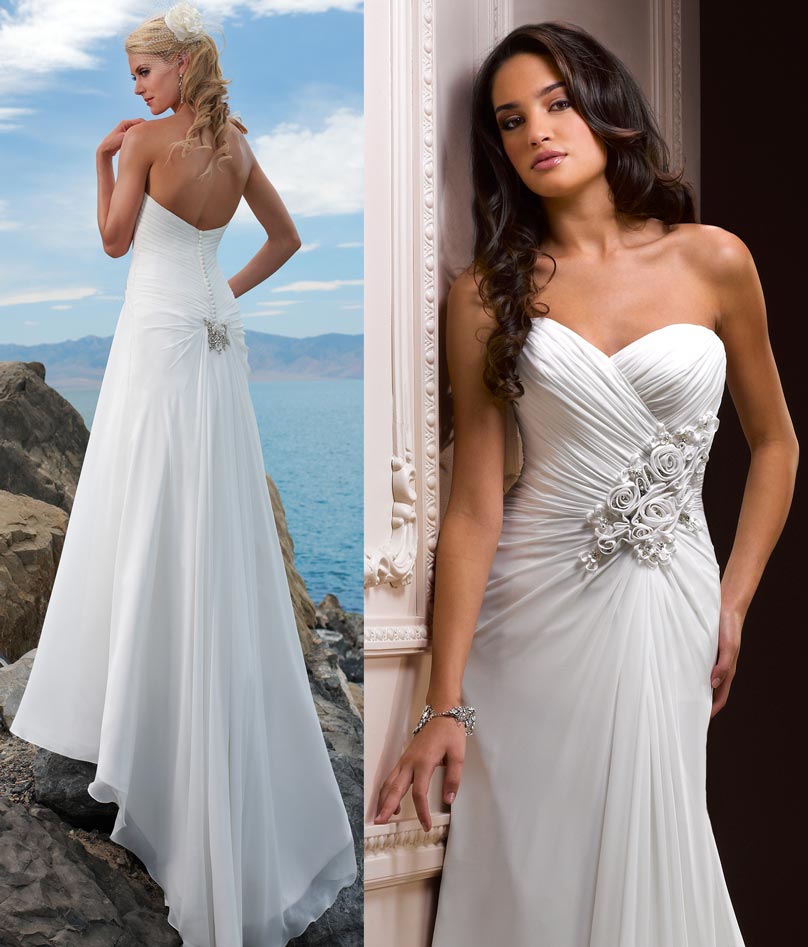 This fabric is sheer, made from silk or synthetic silk and it is often used as an outer layer on the skirt of the wedding dress. It is less stiff than tulle, and more against the skin, so it can also be used for transparent sleeves or wraps.
Lace: Feminine Charming Fabric
There are many different kind of lace. Mostly, different types refer to the patterns made by the threads. Have in mind that lace gives the gown an old look, kind of like vintage. If you are looking for a modern look, lace is not the way to go.
Wedding dress work best with most suitable fabric, so I hope this information helps you decide what best suits you, and no matter which fabrics you choose, remember the most important thing is for you to feel comfortable.