The wedding is a very important ceremony in the life, in the course of the wedding preparations, wedding cars is the focus can not be ignore. I recommend the latest trends decoration for your wedding car, I hope i can help you! You can use the most perfect wedding car will take the bride to your home.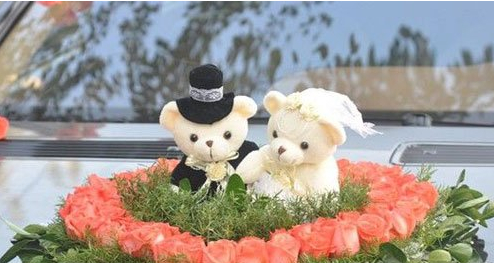 Doll decoration for the headstock
In the wedding car decoration, decorative front is more difficult, in general,they are not decorated with flowers, because at the front of the flowers is easy to deform due to start the car, it is also easy to fall off. Therefore, it usually decorated with a very cute doll or a big bow to decorate, this can also play a very good decorative effect, but the stability is better, not so easy to fall off.
Personality decoration on the roof
Roof decoration is generally need more cautious, a lot of time to be determined based on the entire wedding car styling and colors. You can use the big flowers to decorate, also can be use dolls to decorate, which totally decorate according to wedding car styling. Big flowers can best embody the lively festive atmosphere, but remember that it must be use fresh flowers, so as to ensure its vitality and support force. In general, you should choose some moral good flowers when you selcet the wedding flowers. Such as red roses symbolize love, lily represents pure love, or hatchlings meaning fly together.
Flower decoration on the door
Decoration of the body is also play a very good decorative effect, especially door decoration is essential to be able to add festive and personality for wedding car. In general, you need to maintain a consistent style with the roof decoration, with flowers more. Usually with a two flower roses, carnations coupled with little leaves and flowers, with the wrapping paper and tied with a bow, and then packing tape, paper tape to secure it to the door handle, make the marriage car look more delicate and beautiful.
Flower decoration on the rear
The rear decoration is also very important, but the flexibility is relatively large. The rear can be decorated with flowers, it also can echoes of the headstock. If you want to choose flowers, you can choose moral good flowers, such as lily, anthurium, a bird of paradise etc. You can also choose innovative personality decoration echo with the doll decoration in front of car. You can use drooping shape and also use the unique wind love shape.